When Disney and Lucasfilm announced their joint desire to expand the Star Wars galaxy in 2013 , the character of Obi-Wan Kenobi quickly appeared in conversations during a solo film. This grandiose plan will unfortunately be thwarted by the box office failure of Solo in May 2018. Disney then reviews its copy. Obi-Wan Kenobi thus becomes a television series, according to a first announcement made by the all-powerful Kathleen Kennedy, president of Lucasfilm, and Ewan McGregor , interpreter of the eponymous character since 1999. We will follow the adventures of the Jedi master eight years later. Revenge of the Sith events. After being delayed by writing issues, the series begins filming in March 2021, in order to be released at an unknown date.
However, the aura of mystery surrounding the project is dissipating more quickly than expected since an unfortunate revelation from a Disney + executive via a Tweet relayed by Reddit. Obi-Wan Kenobi could well make his big comeback on the small screen from May 4th. The author of this scoop? Brandon San Giovanni, head of streaming at Disney. His message was very quickly deleted from Twitter, nevertheless late enough to allow attentive Internet users to make a widely distributed screenshot of it a few hours later. San Giovanni does not mention any specific date. On the other hand, we can assume that it will be a Wednesday, the day of the week dedicated to new releases on Disney +, and more particularly to a historic date, the 4th,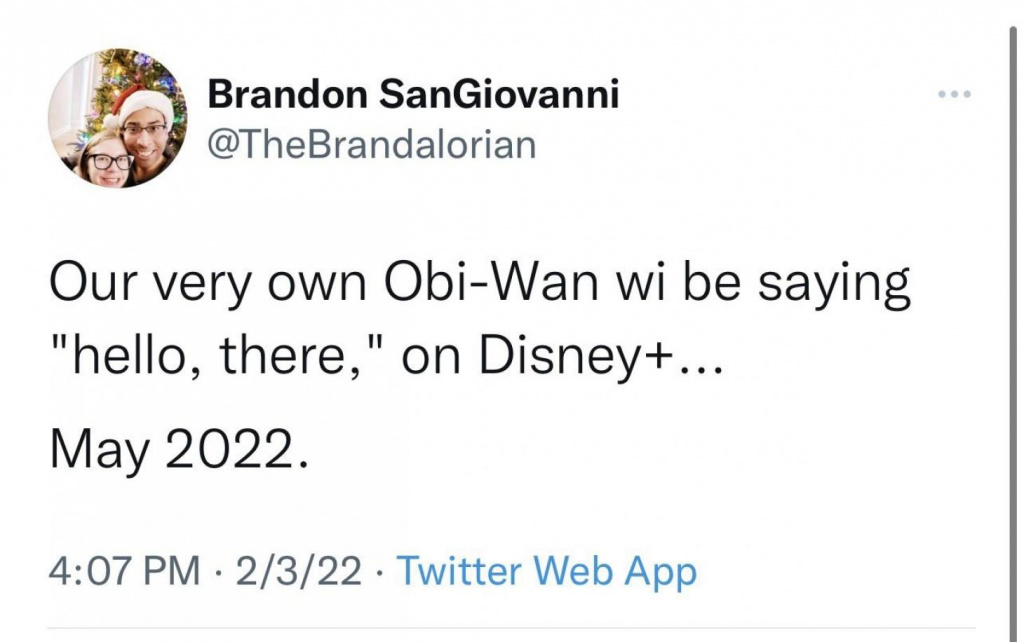 Will Obi-Wan Kenobi make his comeback on May 4, 2022?
Disney hastened to smother the case by advancing a simple misunderstanding about a comic book in five parts on the life of Obi-Wan Kenobi whose publication is actually scheduled for next May. No one really believes this false rumor. The Tweet has the merit of being very clear. The excitement is now at its peak, especially since Obi-Wan Kenobi is undoubtedly the most anticipated series by fans for a long time. Ewan McGregor will find his former padawan Hayden Christensen there, who has become the fearsome Darth Vader. Seeing the tandem again on screen promises epic sequences, the missing link between Revenge of the Sith and A New Hope . Arm ourselves with patience!